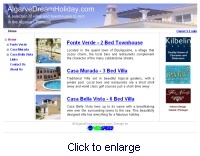 AlgarveDreamHoliday.com was established in 2009 initially to promote privately owned properties in the Algarve, Portugal. The Kilbelin Group construction company wanted a site to showcase various villas and townhouses they had built to hire.  It was also envisaged that this site would grow to cover properties in a variety of locations.   
If you have ever booked accommodation on-line, you know how important the look and feel of the web site is.  If it is poorly laid out, difficult to navigate or has links that don't work, you are immediately put off making the booking.  You want a good representation of the property with professional photos, details about what is included in the holiday home (Do I have to bring linens?  A cot?), clear pricing guidelines, information about the surrounding area, and ideally some links to local services. 
Webspeed delivered on all of these areas, and more.  The owner needed the added functionality to process Email enquiries from customers and a Calendar showing up-to-date booking availability.   
The owner of the Kibelin Group was so happy with the work done, he has since contracted Webspeed to manage some of his other web sites, including the Kibelin Group site. 
Algarve Dream Holiday provides an example of the type of functionality Webspeed can build in to your web site.  We would love to discuss how we can make your web site work for your business.
Visit the site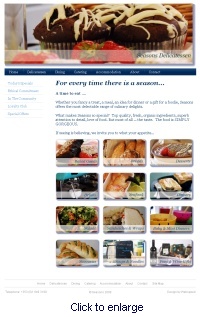 Seasons opened for business in Skerries in 2007 as a deli, caterers and bed & breakfast.  They quickly gained a reputation for fantastic food, terrific service and a warm welcome.  Just through word-of-mouth they established a loyal local following.
In 2009, they decided it was time to take the business to the next level by investing in some type of marketing and promotional activity.  Webspeed met with the owners to get a feel for how they viewed Seasons and who their customers were and what direction the business was taking.  They also had some ideas about the look and feel of the web site which were taken on board.
After the initial meeting, Webspeed came back to Seasons with a mockup of the home and deli pages of the web site.  The owners were delighted with the imagery and copy and felt it captured the feel of the business perfectly.
Once Seasons determined what they needed the web site to do for them (including an on-line Booking and Availability search for the B&B business, as well as content management for Specials and Menus for the Deli and Catering pages), the WebSpeed team were able to recommend the Silver package, with some custom touches.
WebSpeed organised a photographer, wrote web copy, even helped organise a PR company to re-launch the business in connection with a "facelift" and the web site completion.
"Webspeed had an initial meeting with us and listened to our ideas about the look of the web site.  They took those away and came back with a concept and design that we were delighted with!  We felt they had really understood Seasons' ethos and the image we were hoping to project.  Not only that, but we've seen a tangible increase in our business.  In particular, we had done very little previously to promote the B&B side of our business, and can directly attribute enquiries and new bookings to customers finding us on the Web" - Mel Connors
Visit the site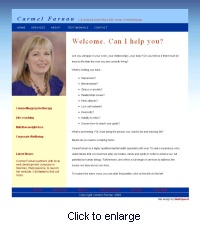 Carmel Farnan is a well establised psychotherapist and counselor who has been accredited since 2001 and practicing in the Skerries community for several years.
Although her business has grown steadily since starting, she did notice that her favoured methods of advertising using leaflet drops and taking out ads in local newspapers were providing smaller returns.
Leaflets, in particular, required her time to write the copy, get a professional to design the leaflet, engage a printer and hire a leaflet distribution company. Even after all this work, there was no guarantee that the leaflets wouldn't end up in a bin somewhere, unread.
Not to mention, she wasn't particularly happy about the environmental impact of leaflets.
Carmel knew that a web site was the way to go and had intended for years to "get around to it", but felt she didn't have the time or expertise to tackle the job.
Webspeed met with her and provided ideas about the design and look of the web site and even generated a mock-up for her to see before committing.
As Carmel was very busy in her day-to-day work and continued professional studies, she found it difficult to put together the copy for the site. Webspeed were able to help with this as well - drafting copy based on conversations with and notes from Carmel - and then allowing her to have final editorial control.
Finally, we set up photography sessions for Carmel in her office at a time that suited her.
Carmel discovered that working with Webspeed took the hassle out of getting a web site up and running ... without interrupting her daily business.
"I have been more than happy with the service that Webspeed have provided to me.  And while I worried that getting a web site up and running would take too much of my time, they were there at each step to facilitate the process - with copy writing, design ideas and even organising a photographer.  I would unreservedly recommend Webspeed to any small business owner who is afraid that a web site will cost too much in terms of time and money.  They deliver what they promise:  a quality web site at a very competitive price. In fact I'm so delighted with the service I got from Webspeed that I have strongly recommended them to other business owners who are also equally delighted" - Carmel Farnan