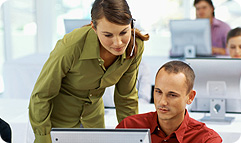 Webspeed is a team of professionals with over 18 years experience in the IT industry, encompassing software design and development, system architecture, project management, training, technical writing and networking.

In addition, we have people with career expertise in Design, Marketing, Advertising and PR.  So you are assured of a good looking website, but more importantly, one designed to accomplish your main objective:  ATTRACTING MORE BUSINESS.
Webspeed specialise in working with small- to medium- sized businesses who don't have a fortune to spend on specialist design companies or corporate web hosting services, but realise the absolute necessity of having a website to be successful in today's marketplace. 
It can be difficult to know where to start, but that's what we are here for.
We'll speak in plain English, but most of all we'll listen to you – to how you see your business, how you want others to perceive it, what type of customers you'd like to attract, where you see your business going over the next few years. 
We know that all of these elements are crucial to delivering a successful website.
While we offer a variety of packages at several price points (see  Services) that are custom-tailored to meet your requirements, we see the following as standard: 
Domain Name Registration


Professional Website Design


Search Engine Registration


Business Directory Registration


Email Set Up


Fully supported Website Hosting


There are many website designers out there, competing for your cash and attention.  Why should you choose Webspeed?
Because we offer a one-stop, hassle-free way to launch a professional, effective website, using our extensive Design, Development and Marketing skills.  And it won't cost the world in terms of time OR money!
Interested in details about specific packages?  Click SERVICES.     
Want to hear what our clients say?  Click PROJECTS.     
Ready to talk to us?  Click CONTACT US.